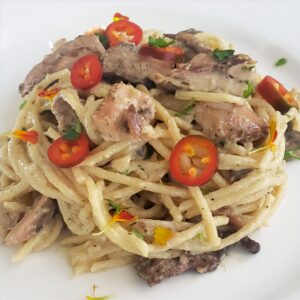 Toyomansi Oven Roasted Chicken with Pasta in Calamansi Cream Sauce
Ingredients
For chicken:
6

pcs chicken thighs bone-in

¼

cup

Soy Sauce

3

Tablespoon

Manila Gold Calamansi Pure Juice

2

large garlic cloves sliced

3

Tablespoons

unsalted butter soften

2

Tablespoons

Italian Seasoning

1

Tablespoon

olive oil

Pepper to taste
For the pasta:
10

oz

dried spaghetti noodles

4

Quarts

of water

2

Tablespoon

olive oil

Salt
For Calamansi Cream Sauce:
3

pcs large garlic cloves minced

¼

cup

All Purpose Flour

1 ½

cup

chicken broth

¼

cup

Manila Gold Calamansi Pure Juice

1

cup

heavy cream

Salt & Pepper to taste

1

Tablespoon

cilantro minced

Dash of Chili Pepper Flakes

Optional
Instructions
In a gallon zip lock bag combine chicken thighs, soy sauce, Manila Gold Calamansi pure juice, and garlic. Shake and let sit for an hour or marinade overnight.

Preheat the oven to 425 degrees. Boil 4 quarts of water in a big pasta pot.

Take chicken out of marinade and pat dry. Combine softened butter with Italian seasoning. Rub butter into the underskin of the chicken thighs. Spread evenly.

Preheat cast iron skillet or oven-safe pan and add olive oil. When the pan starts to smoke add chicken skin down. Put into a preheated oven. Bake chicken for 35-40 mins or until internal reads 165 degrees. Flip chicken halfway through.

Cook pasta to desired texture. Drain pasta and evenly distribute olive oil.

Once chicken is cooked take it out of the pan, cut into bite size cubes and put chicken aside. Put the pan on the stove top and add garlic. Saute until golden brown. Deglaze pan with ½ chicken broth. Add flour and stir for 3 minutes. Add the rest of the chicken broth along with calamansi juice. Mix until the sauce is smooth. Let it come to a boil then add in heavy cream and let it come to a simmer. Add in pasta, season with salt and pepper or chili flakes. Sprinkle in cilantro. Serve pasta with toyomansi chicken.