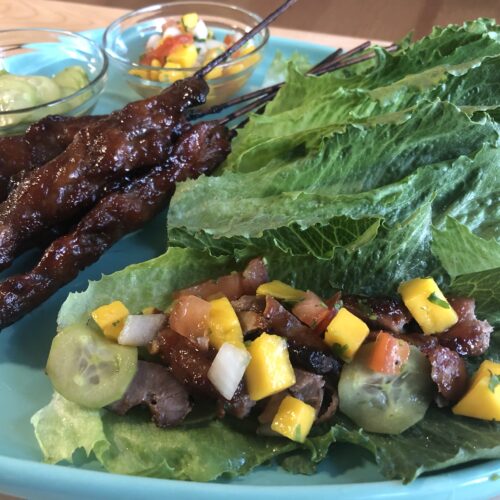 Magnolia Pork BBQ Skewers Lettuce Wrap with Mango Salsa and 1 hour Pickle
Ingredients
Mango Salsa
1

Mango

small diced

1

tomato

small diced

1

small sweet onion

small diced

1

tbsp

olive oil

1

lime

1/2

cilantro

chopped

Salt & Pepper to taste
Pickle
2

Persian Cucumbers

thinly cut

1/4

cup

distilled vinegar

1/4

cup

warm water

1

tbsp

sugar

Salt & Pepper to taste
Instructions
For BBQ Skewers
Follow the instruction for cooking method on Magnolia Pork BBQ package. For air frying instructions pre-heat air fryer to 325ºF. cook skewers for 15 mins, flipping the skewers at least once during the cooking process. Serve on lettuce wrap with mango salsa and quick pickle.
Mango Salsa
Mix mango, tomatoes, onions, cilantro, and olive oil in a bowl.

Squeeze lime juice into mixture and season with salt & pepper to taste.

Let sit for 5 mins and then serve.
Pickle
In a small bowl mix tohether vinegar, water, and sugar. Stir until sugar dissolves. Add in the cucumbers then season with salt and pepper to taste. Let sit for one hour in the refrigerator until ready to serve
Lettuce Wrap
Cut bbq meat off skewers in bite size pieces. You can either use iceberg lettuce or romaine for lettuce wrap. Layer salsa, pickled cucumber and bbq meat into a lettuce leaf and enjoy immediately!