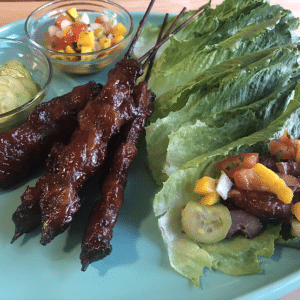 Magnolia Pork BBQ Skewer Lettuce Wrap with Mango Salsa and quick pickle side
This recipe is quick and easy, perfect for appetizers or a light meal. You can pick and add any toppings or veggies you'd like. Featured here is Magnolia's Pork Barbecue, mango salsa, and a quick 1 hour pickle. Give this recipe a try and pair it with a calamansi-ade. If you do not have access to calamansi, Manila Gold pure calamansi is a perfect substitute. Read more for the recipe and share it with us on Instagram and Facebook!
Ingredients
Magnolia Pork Barbecue skewers

Lettuce

Iceberg, Romaine, Bibb, Butter
Mango Salsa
1

mango

diced

1

tomato

diced

1

small sweet onion

diced

1

tablespoon

olive oil

1

lime

1/2

cilantro

chopped

Salt & pepper to taste
Pickle - note: Pickle will need to sit in refrigerator for a hour prior to serving
2

Persian cucumbers

thinly sliced

1/4

cup

distilled vinegar

1/4

cup

warm water

1

tablespoon

sugar

Salt & pepper to taste
Instructions
Cook BBQ Skewers | Follow the instructions for cooking method on Magnolia Pork BBQ package. If you choose to air fry, pre-heat your air fryer to 325 degrees Fahrenheit. Cook skewers for 15 minutes, flipping half way through.

Mix Salsa | Mix diced mango, tomatoes, onions, chopped cilantro, and olive oil in a bowl. Squeeze lime juice into the mixture and season to taste with salt and pepper. Let it sit at least for 5 minutes.

Quick Pickle | In a small bowl, mix together vinegar, water, and sugar. Stir until dissolved. Add thinly sliced cucumbers, and mix. Season to taste with salt and pepper. Let sit for 1 hour in the refrigerator before serving.

Assemble | Wash and prep lettuce into individual pieces. Cut pork barbecue off skewers into bite sized pieces. Layer mango salsa, quick pickle, and pork barbecue onto your lettuce of choice, and enjoy immediately!