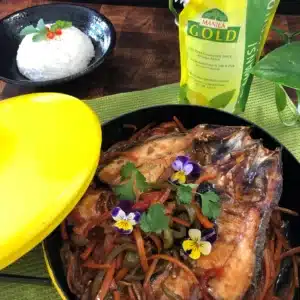 Escabeche with Manila Gold pure Calamansi juice Using Air Fryer
Ingredients
1

ea whole boneless Frescano Bangus

milkfish

½

cup

red bell pepper

sliced

½

cup

green bell pepper

sliced

½

cup

carrot

sliced

1

ea medium size sweet onions

sliced

2

tablespoon

ginger

sliced

1

tablespoon

garlic

minced

¼

cup

Manila Gold pure Calamansi

¼

cup

coconut sugar

1

tablespoon

of fish sauce

2

tablespoon

of water

2

tablespoon

coconut oil

Salt and pepper to taste
Instructions
Dry milkfish with a paper towel to get a crispy exterior. Set your air fryer to fish mode or 350 degrees for 15 mins and then finish it off on broil for 5 mins.

In a hot pan add coconut oil, onions, garlic and ginger until they are slightly brown.

Stir in the bell peppers and cook for about a minute.

Then add carrots, Manila Gold pure calamansi juice, fish sauce and water.

Add in coconut sugar, stir until dissolved and let it come to a boil. Bring down the heat to low to simmer the sauce for a minute to let it thicken up. Salt and pepper your sauce to taste.

To plate arrange the vegetables around and on top of our fish and pour sauce all over the finish. Serve on top of a mound of piping hot rice. Enjoy and share with friends and family!